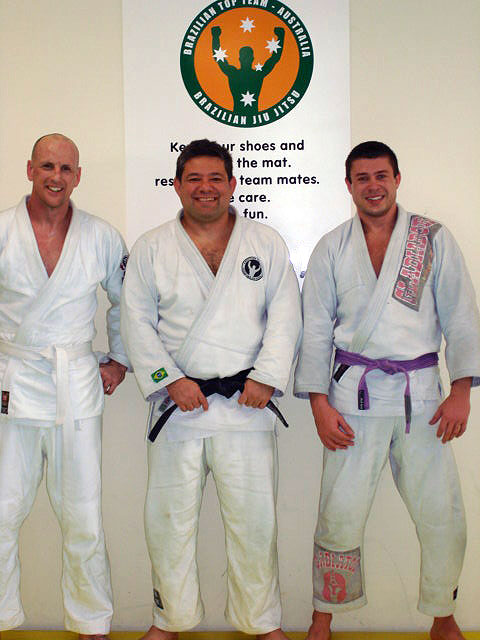 The Brazilian Top Team Australia was first established in Adelaide by Gustavo "Bomba" Toledo, Fabricio Mendonça and Greg Kleynjans in July of 2007. Gus Bomba and Fabricio migrated to Australia in February of 2007 and both had the same migration agent who suggested them to get in touch, as he believed that both shared the same interests in surfing and Brazilian Jiu-Jitsu. Fabricio who had already found a place to train in Adelaide, at Street Defensive Tactics, invited Bomba to come and roll with a few guys he was already teaching BJJ. After a few weeks training, the very positive feedback and the vision of one of the students, Greg Kleynjans, who was fundamental on funding and networking, made Brazilian Top Team Australia become a reality.
From 2007 to 2011, Brazilian Top Team Australia in Adelaide had more than 200 different grapplers on its mats, from interstate visitors, overseas friends, other South Australian BJJ clubs and most important, its permanent students who made it a great place to train and hang around.
In the middle of 2011, after Greg and Fabricio had relocated interstate, due to other professional and personal commitments, Gus Bomba decided to relocate as well in search for weather and surf more similar to Rio de Janeiro where he grew up. The Sunshine Coast lifestyle has been in Bomba's mind since his first visit to Australia in 2006. After adapting his family to the new life in the Sunshine Coast it is time for Bomba to continue spreading and sharing his knowledge of Brazilian Jiu-Jitsu.
Welcome to Brazilian Top Team Australia – Sunshine Coast!
Acknowledgements and my eternal gratitude to:
>> Mitsuyo Maeda, Carlos Gracie, Hélio Gracie, Carlson Gracie: for their Jiu-Jitsu legacy.
>> Murilo Bustamante, Ricardo Libório and Joe Moreira: for everything I know about teaching BJJ.
>> Fabricio Mendonça and Greg Kleynjans: for the loyalty, trust and partnership.
>> Gregg and Michael Toyama: for the opportunity to help organise and promote the sport in South Australia.
>> Graham Kuerschner and Scott Schulze: for sharing their premises with BTT Australia.
>> Leonardo Arruda: for continuing guiding and coaching my students in Adelaide.
>> And most important, all the people I had the privilege to train with in my 25 years as BJJ practitioner.
Thank you very much!
Gustavo "Bomba" Toledo